You Found the Person of your Dreams… Why not Host a Dream Wedding!
Planning the perfect Destination Wedding and Honeymoon in Greece and actually stress-free… is a breeze when you have the benefit of our experience on your side. At Hellenic Holidays we put our greatest efforts to making your far-away dream wedding the most memorable experience of your lifetime and that of your guests too, who will decide to travel and be close to you for that glorious day! Our expertise focuses on weddings in Santorini and Crete via a very sound network of representatives.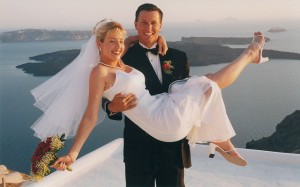 Don't hesitate to have a read of our previous blog concerning honeymoons in Greece too, by pressing here!
Our main aim is to take your wishes and dreams and translate them into an unforgettable day! Could you imagine how special it would be for your wedding day to unravel within luxurious surroundings with spectacular landscapes all around?
The sunny climate, the blue sky, the mesmerizing Aegean Sea, the hospitable people and that holiday sensation just before you say "I do !", all play a vital role in creating the best wedding scenario ever.
Reflecting an inert sensitivity towards your own envisaged wedding, every wish will be taken into consideration.
Whether you are planning on having a totally private wedding ceremony for two or wishing to host a wedding with numerous guests, Hellenic Holidays will guide you through the arrangements down to the smallest detail so that your wedding in Greece will be long remembered by you, your family and your friends. What better place to begin a lifetime of joy and fulfillment?
At Hellenic Holidays, we also cover all the arrangements concerning the legal requirements and the appropriate documentation prior to your wedding day, ranging from the filing of the documents with the Mayor's office to obtain application and marriage license to sending you any additional document home after your departure and from finding witnesses for your wedding to all the community expenses and the handling of local formalities and paperwork!
Our special venues within our cooperating hotels can comfortably accommodate a large number of guests upon request, covering an array of wedding styles according to your personal tastes and needs. Simply let us know how you would like this special day to unravel!
Each and every of our cooperating hotels and resorts has its own set of wedding packages, but they certainly all cover a private arrival & departure transfer from and to the port or airport and a welcome treat consisting of either wine and champagne accompanied by fruits, chocolate and flowers!
With our guidance, you will easily cover parts of the wedding day concerning the flower decoration of the venue, the bridal bouquet and the groom's boutonniere, the music during the ceremony and the reception -if you choose to have one-, catering services including the wedding cake, hair and beauty treatments and spa indulgence before and after the special day, as well as anything that has to do with the photographic coverage and video of your unforgettable wedding day.
After your destination wedding and the marriage ceremony you could continue holidaying as honeymooners! This works perfectly in the Greek islands since they are connected between them and you can island-hop as much as you want. Let us help you arrange your itinerary on a day to day basis…
Your experiential wedding day and honeymoon will be enriched by carefully designing an overall trip full of intimacy and romance, beautiful sceneries, luxury and memorable moments.
Alternatively, combine your wedding on the Greek island of your choice with a visit to the capital of Greece, Athens, in order to further enrich your dream wedding experience with views to the Acropolis and numerous other specimens of Greek history and civilization. This contemporary European metropolis is characterized by an eternal positive disposition towards life! Plunge into a collage of thousands of images -so contradictive yet so captivating-.
Walk around the vibrant and ever growing city center and plan to spend some time at the fashionable southern suburbs and the Athenian Riviera where the capital transforms into…an island!
We wholeheartedly wish you the most dreamy wedding in Greece!