Join Us In Crete & Paros For A Truly VIP "Villa Experience" [PART 2]!
As we already pinpointed in Part 1 of this interesting tribute about our co-operating Villas, we, at Hellenic Holidays, highly value the qualities of "the Villa experience". In co-operating with an outstanding selection of villas for those who always want to acquire only the best in life and will settle for nothing less, we proudly present our guests with the opportunity of a VIP stay on selected, top Greek islands.
The luxurious, spacious and highly stylish ambience cherished by each and every one of our co-operating villas, is bound to make you feel on top of the world! If you wish to experience the VIP way of living on the islands of Mykonos, Santorini, Crete and Paros then look no further… for our selection of villas is destined to make you feel seriously special, deeply pampered and happy!
In part 2 of this special tribute to our precious villas, we will focus on the gems we cherish on the islands of Crete and Paros!
Crete… A praise to profound sentiments and diverse experiences. A large island to which one must devote as many days as possible in order to manage and grasp its essence.
Ranging from the luxury north coast and the deserted and exotic south coast, to the mountainous villages in the wilderness and the atmospheric old towns… one of the largest islands of the Mediterranean offers a tremendously diverse variety of experiences that are all worthy to discover.
On the island of Crete, Hellenic Holidays presents you with Thalassa Villas – a luxurious complex of 6 stylish and spacious villas built on the waterfront of Mirabello Gulf at close proximity to the area of Agios Nikolaos in the northeast of Crete and in the county of Lassithi.
The eastern county of Lassithi cherishes a very atmospheric ambience and is rather different from the other parts of the island.
The particular villas boast the perfect blend of international style and traditional local colors and textures.
Each of the villas can accommodate up to 5-6 guests within absolute privacy and in a breathtakingly chic, welcoming and relaxed ambience. Luxury services, gracious views of blue and green landscapes, ample style and comfort.
Right on the other side of Crete, we come across the county of Chania cherishing possibly the most beautiful town of the island, Chania Town, which will absolutely bewilder you with its multicultural personality.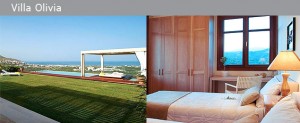 Villa Olivia is one of the two options in Chania for our guests. Located within fragrant olive groves at close proximity to the marvelous Chania Town but also a very short drive away from the beach, this superb three-bedroom summer residence can comfortably accommodate 6 guests.
Lucky guests who will select it for their stay will be astounded by an array of top-of-the-line amenities, spacious areas, high ceilings, simplistic decors and soft, earthy tones and ample natural light streaming-in from huge French-styled windows!
Guests will also find numerous outdoor chill-out areas, such as terraces and patios to relax in and enjoy the majestic views of the fragrant gardens and beyond, as well as a large infinity pool for refreshing dives.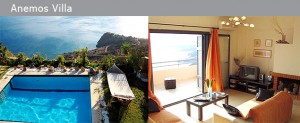 Anemos Villa is yet another option in Chania of Crete. The luxurious property comprises of 3 independent villas, each of which boasts a different architectural approach, a private swimming pool, 3 en-suite bedrooms and elegant furnishings.
All 3 Villas at Anemos cherish close proximity to a superb beach, great sea views through the extensive use of glass and can accommodate up to 6 persons each. Numerous terraces and relaxation decks embrace the villas giving you ample opportunities to enjoy the day's fresh air and the romantic ambience of the Cretan evenings.
Moving on to Paros island we become acquainted with a small yet beautiful and very popular location in the Cyclades.
There is nothing that Paros cannot give you in return for your visit!Get ready for a very relaxing sea & sun holiday on a very picturesque island that equally promises a very vibrant nightlife and extraordinary gastronomy too!
Discover its numerous stunning beaches, dive into its rich history and culture, visit and capture its countless Cycladic churches and chapels, walk the paths that lead you to gorgeous and picturesque villages and settlements.
For your accommodation arrangements, Hellenic Holidays presents you with Yria Ktima – a beautiful estate containing highly luxurious properties, located near Parasporos beach and close to the two main towns of Parikia and Naoussa.
Secluded Sarakiniko mansion is set apart on the hill. Then we can also choose between the Luxury Villa and the Luxury Cottage. All three properties are situated within two acres of fragrant gardens and amidst the gorgeous landscape of Paros and its eternal companion, Antiparos island.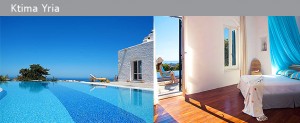 Yria Ktima presents guest with amenities such as swimming pools and Jacuzzis, large terraces with garden furniture, plasma televisions with satellite signal, Wi-Fi, DVD player, Apivita natural toiletries and feather duvets and pillows, plus, a selection of services that include daily maid service, hearty breakfasts, free access to the Yria Resort facilities and one full-day boat trip around Paros.
Join us today at Hellenic Holidays and let's plan together your most unforgettable "Villa experience" on the islands of Crete, Paros, Mykonos and Santorini!