What Makes Santorini So Special? 5 Things You'll Only Find on the Island
When putting together your Greece vacation package, you want it to be a one-of-a-kind experience, so what better place better to add to your itinerary than Santorini, a truly one-of-a-kind destination?
Of course every Greek Cycladic island has their own unique character, history and natural wonders (and Greece vacation experts Hellenic Holidays can help you discover them all). But even with neighbors like these, Santorini stands out as a place that truly needs to be seen to be believed
What makes Santorini so special? Below are just some of the things you'll find on the island and nowhere else on Earth.
1. The Huge Sea-Filled Crater that is the Caldera
Okay, so this one is a bit of a no-brainer. The island's unique geography is unquestionably the main reason why visitors have been flocking to the island ever since the age of mass travel began. But that makes it no less jaw-dropping.
The caldera is a sea-filled crater caused by Santorini's volcano, which famously erupted in a colossal explosion in the second millennium BC, one of the biggest ever to occur in human history. This cataclysmic event brought an end to the glorious Minoan civilization that existed at the time on Crete and Santorini, and sculpted the island into its present shape.
A huge crescent of sheer cliffs hundreds of meters high now surrounds a deep, deep basin filled with unparalleled blue of the Aegean Sea. In the center, the tip of the still-active volcano is visible as a small, visitable islet surrounded by hot natural springs. The caldera could be called Greece's Grand Canyon, the sight of which alone is enough to make the journey worthwhile, and one that will never be forgotten.
2. Fira, Oia and More – Santorini's Clifftop Villages
By itself, Santorini's caldera would be a stunning geological phenomenon. But what takes it to an entirely different level are the villages that line it, built literally into the cliff face.
Elsewhere in the world, stunning natural phenomena like the caldera can be seen only after an arduous trek into the heart of a nature reserve. Here you can soak up that marvelous view while enjoying breakfast in your hotel room, a delicious meal at a gourmet restaurant, or wandering through charming stone-paved alleys.
With their classic Greek island architecture of whitewashed sugar-cube homes with blue and red painted windows and doors, they are everything you could wish for in a Greek vacation destination, set against a backdrop of the most incredible views, with world-famous sunsets.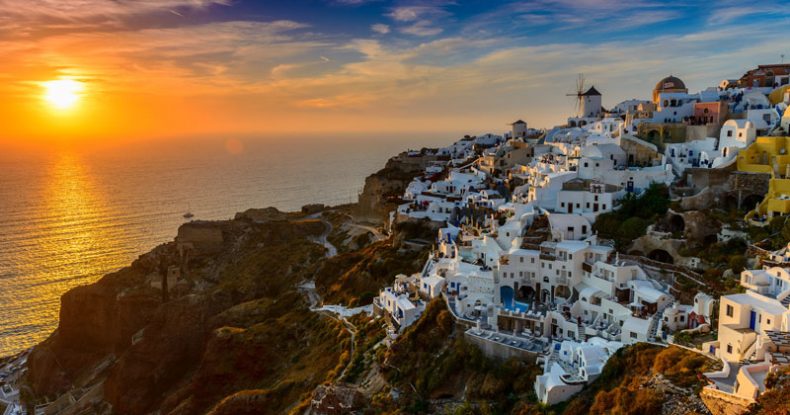 Villages like Fira, Oia and Akrotiri are home to excellent restaurants, cafes and nightlife and more boutique shops than you can wave a credit card at. With lively atmospheres and wonderful hospitality, they emphatically do justice to their incredible locations.
3. Santorinian Wine
Unique places create unique wines, and Santorini proves this in spades. Its dry volcanic, mineral-rich soils have been cultivated by winemakers for millennia, leading to the creation of indigenous grape varieties totally unique to the island, literally molded by the landscape itself.
The most famous of these is Assyrtiko, an incredible dry white wine with characteristic volcanic mineral notes and complex aromas of citrus and other fruits. It is considered the finest white in Greece and among the best in the world.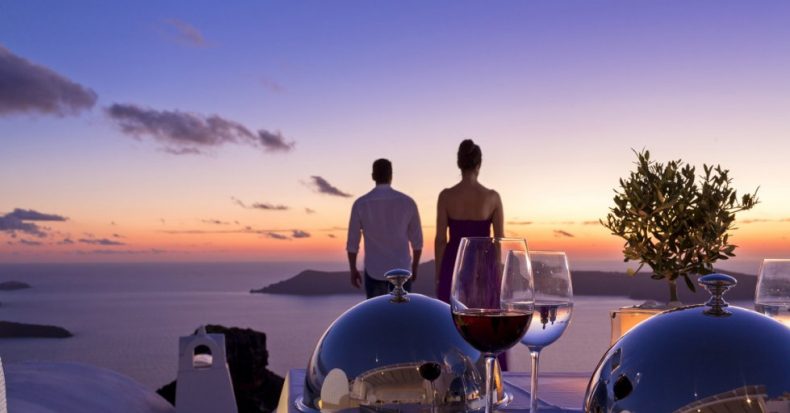 Meanwhile the island also produces a unique sweet white dessert wine, Vinsanto. Complex and deep amber in color it is made from sun-ripened Assyrtiko grapes, as well as other rarer, endemic varieties.
These and other local wines are best enjoyed paired with some of the finest Mediterranean cooking Greece has to offer as you look out over the caldera. Or go straight to the source: Santorini boasts a number of superb wineries that combine the best of small-scale production and traditional practices, with modern sophistication, tasteful design and exemplary hospitality. Hellenic Holidays will guide you in choosing the perfect wine-tasting tour that will take your enjoyment of the island to another level.
4. Traces of Atlantis
The lost civilization of Atlantis has beguiled and inspired generations, and there is no shortage of theories as to where this mythical land once existed. Among the most compelling of these are those that connect mythical Atlantis to the Minoan civilization that once thrived in the Mediterranean until the volcano of Santorini brought it to a sudden end in 1613 BC.
The eruption may have brought catastrophe to the Minoans, but the tons of volcanic ash ejected by the volcano preserved, as well as destroyed.
The archaeological site of ancient Akrotiri has been described as 'Greece's Pompeii' as the city – once a thriving prehistoric metropolis complete with sewage systems, town planning, and skilled artworks – was buried under the ash after the eruption, preserving it until this day.
Akrotiri may or may not be the city-state that inspired the legends of Atlantis, but a visit to the site, now covered with a bioclimatic shelter where visitors can walk above the ancient streets on elevated walkways, is a moving experience. So too is a visit to the Museum of Prehistoric Thera where many of the incredible tools and artworks created by this highly sophisticated prehistoric civilization are on display.
And who knows what surprises the future may hold – archaeologists estimate that only 3 percent of the ancient city has been excavated!
5. Santorini's Unique Tomatoes
Anyone who has enjoyed a Greek salad on an island in the summer knows that the tomatoes one finds in Greece are not like the one you find in a typical supermarket in more northern climates. Sweet, tangy, bright red and bursting with flavor, even when enjoyed alone with just a bit of salt and olive oil they are a true summer delight.
But Santorini takes this one step further. The island boasts its own variety of cherry tomatoes that are truly in a league of their own – so unique that they were granted Protected Designation of Origin status (PDO) by the European Union in 2013.
The Santorini tomato first arrived on the island sometime in the 19th century, probably from Egypt brought by Santorinian sea captains. Over the years, the tomatoes became adapted to the dry and unique conditions on the island and today are cultivated with very little water. The leaves draw moisture from the air and the roots the maximum of nutrients from the mineral-rich volcanic earth. Add a dose of strong Cycladic sunshine and the resulting fruits harvested in the summer are small in size but absolutely exploding in flavor.
You can enjoy them in a simple salad paired with sharp local cheeses, or as tomatokeftedes – a local recipe of patties made with tomatoes and herbs and lightly fried until crispy and golden. Pair them with an Assyrtiko white, and you will be in seventh heaven – tasting flavors that only Santorini's landscape can produce, a symphony for the senses in this dramatic landscape.
And when you leave you can take home with you high-quality locally-produced tomato pastes and preserves. So even when the winter begins to set in, you can open a jar and taste a little more of the magic that is summer on Santorini.