A Place Where Gods Met The Earth…
Greece…the Olympian Gods selected it as their base…their home. Hellenic Holidays has selected it for its unsurpassable beauty and alternation of sceneries and is wishing to guide you – our treasured clients – right in the core of this blessed corner of earth.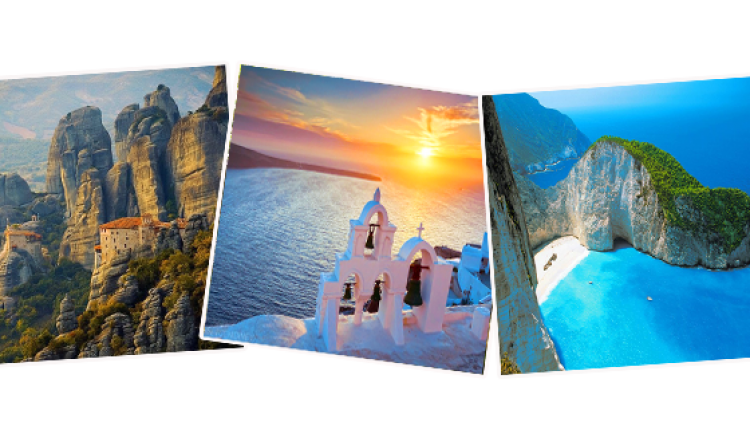 Through our award wining itineraries, you are bound to discover the very best of Greece whether you are interested into spending a romantic holiday for two, an unforgettable family vacation or a fun getaway with friends. At Hellenic Holidays we specialize in handing you the most precious inside information about the rich heritage and culture of the cradle of civilization, the most amazing monuments of religious interest and, last but not least, tips of what you shouldn't miss for anything in the world!…the Greek culinary delights.
Although the Greek islands gain a top position at the wish-list of millions of people around the world, you should not underestimate the value of visiting the historical capital of Europe, Athens, as well as the Peloponnesian peninsula and the "naval of earth", Delphi.
Athens is a contemporary European metropolis which successfully blends the modern with the classic based on an unmistakable recipe that will absolutely enchant you. In addition, the Athenian Riviera constitutes the most beautiful, long and luxury coast you could ever imagine seeing as part of a capital city.
If you are interested in discovering a land of a million faces at the south of Athens, then the Peloponnesian peninsula should just do the trick…Its crude and somewhat wild beauties will captivate you and the beautifully aging faces of the hospitable locals will welcome you in the warmest manner. Alternatively, head north to Delphi and experience that sensational feeling of being at the exact center of the world…
Hellenic Holidays specialises in giving you dream holidays in The Cyclades island complex (Mykonos, Santorini, Naxos and Paros) which are the quintessential summer destination for a white & blue life-time experience!
Equally appealing are the Dodecanese islands of Rhodes, Kos and Samos which promise picturesque landscapes and peaceful moments that will long linger in your hearts and minds after your departure. Crete, of course, is the largest and most self-sufficient island in Greece. Sublime landscapes, ample sunshine, exotic beaches and superior gastronomy await your admiration!
At Hellenic Holidays, we wholeheartedly believe that this year you should give an end to dreaming all of the above. It is time to make your trip to Greece a reality! Join us and let us help you to simply…make it happen!