Turkey… A Country Of All Tastes
In trying to balance its eastern persona with its western ambition, Turkey is indeed a country of all tastes ready to fascinate our senses with its mysterious and intriguing character. A highly interesting blend comprising of breathtaking natural beauty, a plethora of historical and archaeological places streaming from its rich past and a much appreciated tradition in hospitality.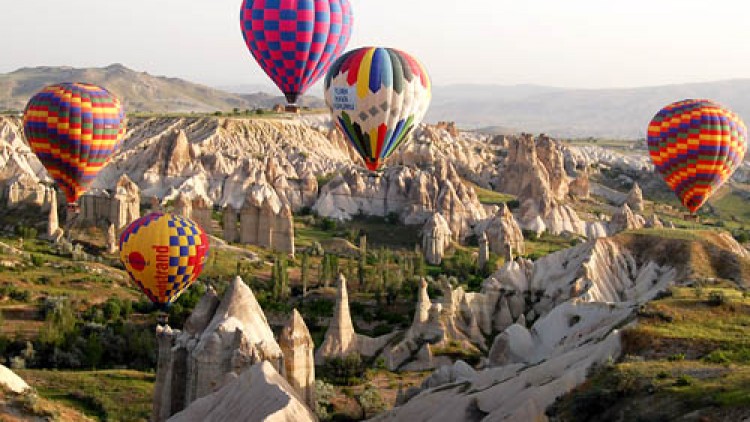 Hellenic Holidays has discovered on your behalf the most superior regions within this massive country and presents you with the best of Turkey…Areas which boast beautiful mountainous nature, stunning white sanded beaches, large national parks, skiing resorts, monuments and castles, religious mosques, exotic shopping bazaars and so much more. What a thrilling experience awaits you…You are located at the crossroads of colours and cultures after all!
The best way to start exploring Turkey is from its enormous capital city and largest port of the country. Istanbul hosts 15 million people which manage to coexist within the third largest city in the world. This is your perfect destination in wishing to be immersed in history. Countless monuments, temples, palaces and significant buildings are surrounded by the Bosphorus and the Sea of Marmara that separate Europe from Asia.
The sun shines differently in Turkey…and holidaymakers are heading south from the capital to reach Izmir, Bodrum and the Aegean coast. A thousand stories have been told for the amazing sceneries you will come across over here…shimmering turquoise waters and a plethora of holiday resorts await you for ounces of relaxation, delicious food and a further feast into history at Marmaris, Kusadasi, Bodrum, Ephesus and Pergamum to mention just a few…
If you wish to explore further deep into Anatolia, then Cappadocia is a must-visit destination and Turkey's most visually striking region due to the world famous rock formations, underground churches and dwellings it presents. The area was bound to volcanic eruptions in the past which have yielded the magnificent sceneries we happily lay eyes on today. Discover as many out of the 3.000 rock churches of Cappadocia and admire amazing frescoes, explore the underground cities of Kaymakli and Derinkuyu and, of course, visit both άηhisar and άrgόp for an amazing holiday in selecting to stay among the numerous chic boutique hotels at your disposal.
Through carefully selected itineraries, Hellenic Holidays brings you in contact with the best of Turkey. A country which promises to steal your heart whether you are on a romantic holiday for two, an action-packed family vacation or a fun and explorative getaway with friends.